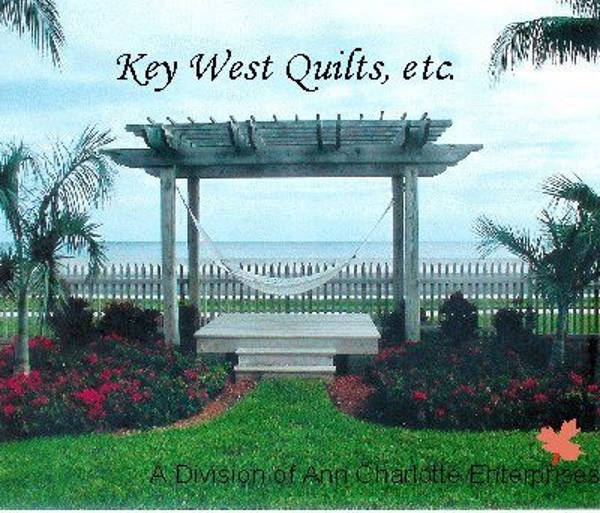 Key West: A definite state of mind.
Jimmy Buffett couldn't have said it any better . . . "changes in latitude . . . changes in attitude."
Sun . . . sand . . . salty turquoise water palm trees . . . hibiscus . . . bougainvillea . . . birds of paradise. . .Key Lime Pies . . . Duval Street . . . Fantasy Fest
That's Key West.
• Key West Quilts Charity Fundraising
Help support Ann Charlotte's favorite charities by purchasing "virtual" tickets for a variety of warm cuddly fleece blankets.
• Children's Quilts
Check back often for new fun patterns.
• Unique Boutique
Ann Charlotte's one-of-a-kind quilts using tropical print fabrics from Key West. This site is also open to crafters who wish to sell their own unique items.
Have linens and lace passed down to you? Don't know what to do with it all? Create your own heirloom. Ann Charlotte can fashion it into a memory quilt for you.
Too many t-shirts from clubs, sports and other activities? Turn them into a fun quilt.
For more information:
contact Ann Charlotte
info@KeyWestQuiltsetc.com.
Products will be offered for sale as they are produced.
Planning a trip to Key West? Check this out!
Key West – Your Local Guide for things to do in Key West Florida. Key West Tours and Activities.